---
After registering and paying for a training class, ever been notified that it's been cancelled due to low enrolment?
You need our Guaranteed Classes!

Ever wonder why so many IT training classes get cancelled at the last minute? Some of it is certainly due to the slow economy, but mostly it's the unavoidable side-effects of a widespread business practice. Hoping to cast a wide net, many training vendors schedule far more class offerings than they could actually staff with instructors for the same time period. Then, when class time draws near, for each instructor they cancel all classes except the one with the most students. This practice understandably frustrates prospective students and also their managers, who must scramble to find an equivalent class for the same time period from other vendors—who will likely be playing "musical chairs" with their student registrations also! During our 25+ year history as an IT vendor, we've certainly had to cancel some classes, but far fewer than most of our competitors. This is because we've used 3 students as our quota to run a class (which is only feasible for a low-overhead vendor like us), rather than the industry standard of 6 students

As another industry first, we now guarantee to run each of our classes that has at least ONE student! This means that once you are properly enrolled for a class, you'll know for certain that it will run—and more importantly, that you will get the training you need at that time.

For the full details of this exciting new program, read more about Guaranteed Classes from Consultix.
Regular expressions making you irregular?
Feeling like a Shell of your old self?
Suffering awkful headaches?
Hire a Scripter!

It's not always cost effective to train an employee in the technologies needed to develop a new, or to modify an existing, software application. But such cases can be readily handled by temporarily enlisting the services of our expert AWK-, Perl-, and UNIX/Linux Shell-scripting specialists, who have decades of experience with UNIX/Linux programming tools and techniques. So when you need help modifying existing Shell, sed, AWK, or Perl scripts, or creating new ones from scratch, consider using our Contract Programming Services and contact us to learn how we can help!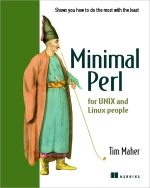 Unique Perl Book for UNIX/Linux People Interested in learning the Perl language, but intimidated by the 1,000+ pages of "Programming Perl" and intimidated by the language's reputation for being eccentric? Minimal Perl by Tim Maher teaches Perl in a new way—instead of ignoring your prior knowledge of shell programming techniques and powerful UNIX commands, it capitalizes on that knowledge to make Perl faster and easier for you to learn!

For more information, reviews, and to order the book, go to the Minimal Perl book's web site.
| | |
| --- | --- |
| Tim Maher's Talks On-line | Dr. Tim Maher has given dozens of educational presentations on Linux and Perl topics at professional conferences. You're welcome to view the slides from some of the most interesting talks, and learn what you can from them. |