Academic Background | High-Tech Background | Achievements | Awards | Interviews
Dr. Tim Maher began using UNIX systems and the C language during the Dark Ages of UNIX (1976), when the cryptic on-line "manual pages" were the only available documentation!
Academic Background
Tim earned a Pn.D. in Experimental Psychology from the University of Toronto, with a doctoral-level minor in Computer Science, which helped him write the custom programs needed to conduct his computer-controlled experiments in human perception and psychobiology. Next, he spent two years at the University of Utah as a Research Assistant Professor of Computer Science. There he conducted original research in the areas of Human Factors Engineering and Psychoacoustics (using digitized music and computer-simulated audio systems), and served as a consultant to a Bioengineering group (that was using Digital Signal Processing technology to create a human "Artificial Ear"). During this period, he also taught original courses in Computer Science, Statistics, and Psychology. This is when he discovered his aptitude for teaching , and his enjoyment of it!
High-Tech Industry Background
Dr. Maher was then hired by AT&T to work at its Corporate Education and Training Center in Silicon Valley, where he served as a UNIX Course Developer and Instructor. He spent four years there pursuing his teaching interests by presenting courses on all aspects of UNIX and the C, Shell, and AWK languages to an international audience of programmers, engineers, system administrators, and executives.
He left AT&T to take up a position as a Senior Systems Analyst at U.C. Berkeley in 1987. His duties there included the design and implementation of custom UNIX software for students and faculty, and the presentation of a popular seminar series on academic applications of computing, entitled "Beyond Word Processing."
Dr. Maher founded Consultix, in 1986, to provide consulting and training services on UNIX Systems and the C language to the Fortune 500 and U.S. government. Recent clients include AT&T; Wireless, Amazon.com, Boeing, IBM, Money Tree, Network Applicance, Northwestern Mutual Life, RealNetworks, Starbucks, T-Mobile, US Air Force, and Washington Mutual Bank.
Tim is known for his ability to make week-long technical training sessions not only endurable but even enjoyable! In addition to delivering his own courses, Tim has been certified to teach the courses of AT&T, Digital Equipment Corp., Learning Group International, Hewlett Packard, and Sun Microsystems.
Achievements and Interests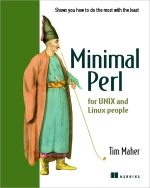 Dr. Maher has trouble accepting pronouncements like Perl is too hard to parse to be beautifiable and Perl is too complex for its programmers to be certifiable. Accordingly, he was the first to demonstrate that automatic beautification of Perl source code was indeed possible, and he has argued that Perl programmers would benefit from a certification program.

Tim wrote a unique and much appreciated book entitled Minimal Perl: For UNIX and Linux People (expanding on a similarly named Consultix training course), for Manning Publications. It has been a best-seller on Amazon.com.

In recent years, Dr. Maher has enjoyed revisiting his first career as a Research Psychologist, through affiliations with the University of Central Washington and Seattle University as an Adjunct Faculty member. He lectured on Physiological Psychology, Research Methods, Design of Experiments, Statistics, and Psychopharmacology.
Awards and Distinctions
During his tenure as a professor of Computer Science at the University of Utah, Dr. Tim Maher received top ratings from his students. During his eight years as a contract trainer for Sun Microsystems, Inc., Tim received special commendations and awards during periods when he was the top-rated instructor.
In 2002, the Perl Foundation bestowed the prestigious White Camel award on Dr. Maher, for activities including the following:

his work in establishing and running the Seattle Perl Users Group (aka Seattle.pm), one of the first Perl groups to be formed, and widely recognized as one of the best,
for promoting Perl through his activities on the University of Washington's Computer Science Advisory Board
for periodic offerings of free Perl training classes from Consultix.
Interviews
The Perl Foundation published an interview with Tim about SPUG in their October 2002 edition (click on the language of your choice).

In another outrageously hilarious and informative interview, Tim spent an amazing amount of time dancing around the question "what does it mean to you to receive the White Camel award?"