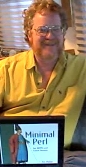 In February 2007, Minimal Perl earned the #1 sales ranking in its category from Amazon.com. The author, Tim Maher, was interviewed about his book achieving this milestone.

Watch the video by clicking on the photo on the left, and then clicking again on a similar one that appears on the resulting page.

Then visit the website for Minimal Perl for UNIX and Linux People.